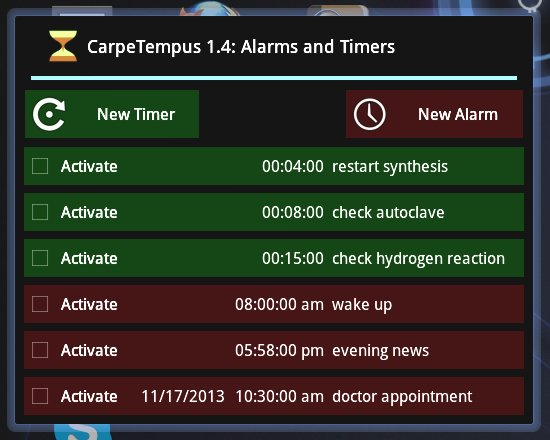 CarpeTempus in operation
CarpeTempus is free, open-source and is licensed under the GPL. And there are no ads.
Get CarpeTempus at the Android Market
(more secure and automatically checks for device compatibility)
| | |
| --- | --- |
| "It's about time!" | CarpeTempus download QR code |
Introduction
The Program

CarpeTempus is a complete, powerful Android alarm/timer application.
CarpeTempus requires Android version 3.2, API 13, or newer.
CarpeTempus will accept any number of alarms (particular time of day, and day of week, month, year, etc.) or timers (durations in seconds. minutes. hours, etc.).
When it's time for CarpeTempus to alert you, it will speak the message you choose, or play an alarm ringtone, or play a piece of music you choose.
The CarpeTempus alarm scheduler is very sophisticated — you can choose a time of day, one or more days of the week, one or more days of the month, or a particular day of the year — or any combination of these.
CarpeTempus timers are much like alarms, except they're meant for time durations, not times of day. You can set time durations from one second to 100 hours. When the time arrives, all the features of the alarm scheduler are available — spoken messages, ringtones or user-selected music.
Once you have programmed some alarms and timers, you can put your Android device in standby mode. Then, when it's time for an alarm, the CarpeTempus service daemon will wake up, turn on the display, and alert you.
It's not necessary to type reminder messages. To program a CarpeTempus message, you can speak the message instead of typing it.
CarpeTempus is free and open-source, and is licensed under the GPL.
One more thing — CarpeTempus has no ads, no tricks and no strings attached. CarpeTempus is exactly what it appears to be — a nice, free application.

The Programmer

Hello — I'm Paul Lutus, author of CarpeTempus. I've been writing software for about 35 years and have written some very well-known titles (Apple Writer, Arachnophilia). CarpeTempus is one of my first Android applications — I wrote it because (as before) there were no Android programs that could give me what I needed. Existing programs were missing features that I regarded as essential, like a mixture of alarms and timers in one program, the ability to speak a reminder message, the ability to play any music I wanted as an alarm sound, and the ability to set timer durations to the second.

I hope you like CarpeTempus. And stay tuned — I'll be writing more Android programs in the future.
Getting CarpeTempus
The easiest way to get CarpeTempus is to visit the Google Play Store's CarpeTempus page — this method is secure and it checks for compatibility with your Android device.
The next-easiest way to get CarpeTempus from a camera-equipped Android device is to take a picture of the QR code at the top of this page and download the result.
The next-next-easiest way is to click the download link that appears below the QR code. This only works if you are browsing with your Android device.
Another way is to use another computer to download the CarpeTempus file, then download it onto your Android device.
Programmers: CarpeTempus is open-source and licensed under the GPL. Click here to download the source archive.
Details, Instructions
Pay it Forward
CarpeTempus is free, it doesn't show ads, it's not crippleware or shareware, and I don't want your money. I just thought I would make that clear up front.

Years ago, in connection with my software development activities, I came up with an idea I called CareWare. But as the years went by I became somewhat disenchanted with the original idea and I now find it somewhat overheated (even though it's my idea).

So lately, moved as I am by conflicting forces — on one hand wanting to change the world, but on the other not wanting to even appear disrespectful of other people's choices — I've decided to just say pay it forward if you want. But there's no obligation to do that.
Copyright, Source, Version History
Here is a source archive for CarpeTempus, organized as an Android Studio project.

Version History (reverse chronological order)